How To Crack IBPS Clerk (आईबीपीएस क्लर्क को कैसे क्रैक करें – तैयारी युक्तियाँ, रणनीति, अध्ययन योजना): The Indian Banking and Personnel Selection are one of the prominent institutions for the candidates who want to pursue Bank Jobs. All such candidates are notified that apart from the PO and RRB the Clerk is also one of the famous and a good platform job for whom exam is conducted by the IBPS. The selection process comprises the written exam in two phases- Pre and Mains and lastly the interview. All the aspirants who will be giving this exam would require Tips for IBPS Clerk Exam.
IBPS Clerk Recruitment 2023 || IBPS Clerk Study Material
IBPS Clerk Preparation Tips
Through this article, we have made an effort for all those who are searching for How to Prepare for IBPS Clerk Exam. Kindly read the below-mentioned tips to gear up your preparation for the exam-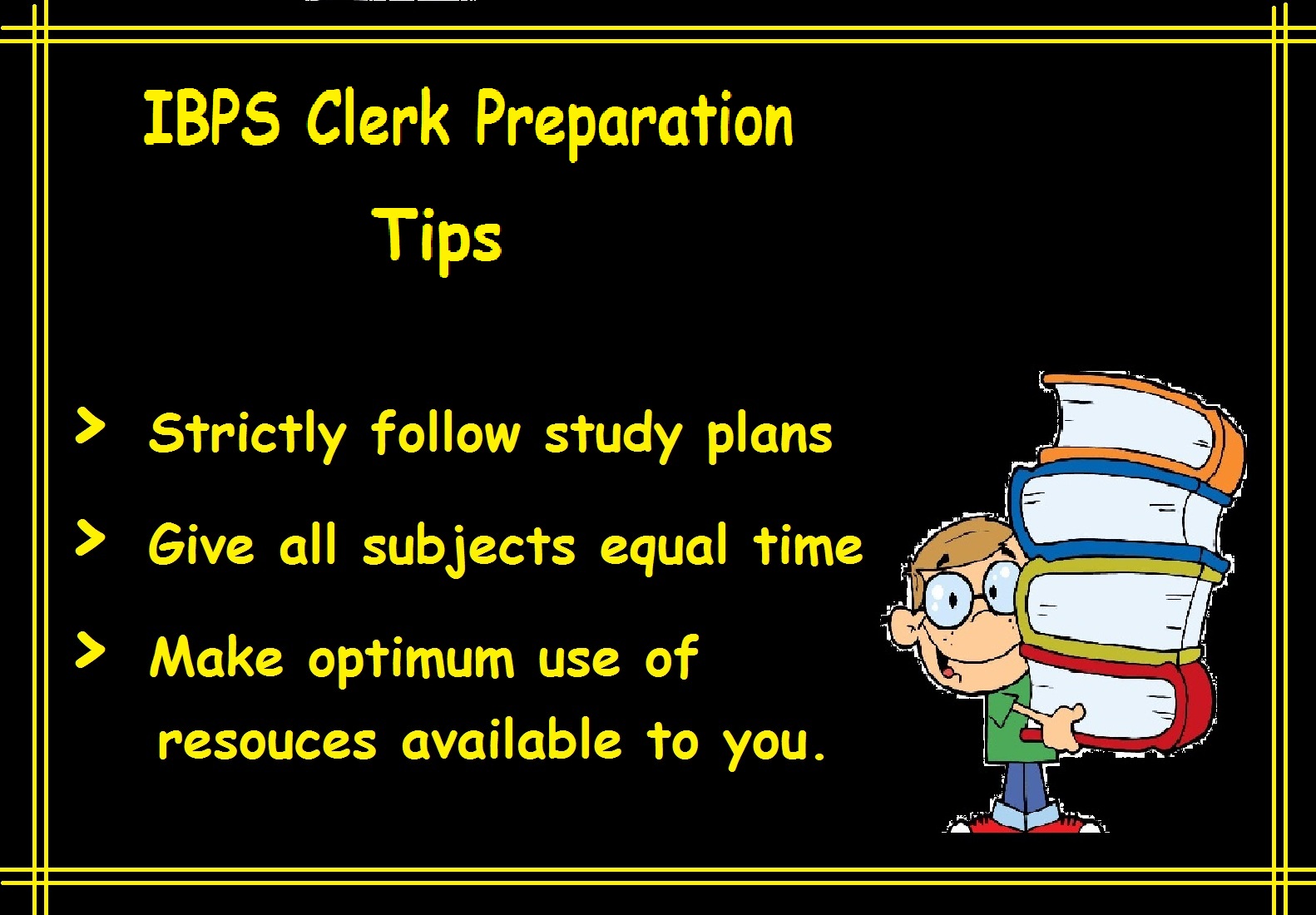 See Also
Score 100% Marks in SBI Clerk Exam
Dwell into Subject Wise Preparation
The candidates should always begin their studies by forming a well manage time plan. We would suggest making a plan such as if you study for 8 hours a day try to give your 2 hours to each subject. One subject at a day will not be a good option if you want to the right method of How to Prepare for IBPS Clerk Exam at Home.
Follow a Preparation Strategy
For the candidates who are looking for a Study Strategy for IBPS Clerk, here we have mentioned it for the candidates. The table is a simple differentiated topics table for dividing the syllabus and studying properly.
Sequence
Quantitative Aptitude
Reasoning
English
General Awareness
Phase 1
Simplification, approximation, Quadratic equations, number series, ratio proportion, Average profit loss and discount
Learn thoroughly the topics such as Inequality

Syllogism

Order and Ranking

Work on yourself for the following topics-

Grammar, Spotting Errors, Reading Comprehension

Reading the following topics can prove to be a great help-

Important Organization, Types of Banks and products, Cheques, NEFT, RTGS, IMPS

Phase 2
Time and work, Speed, Distance and time, mixture and allegations
Input – Output

Coding – Decoding

Alphanumeric Series

Direction based problems

Sentence Improvement and Rearrangement, Reading Comprehension
Committees, acts, and bodies, Weekly current status.
Phase 3
Pipes, Problems on age, Probability, Data Sufficiency
Solve the puzzles such as- Floor based, Day and month based

classification and blood relations.

Fill in the Blanks with Single, Double and Sentence Fillers, Cloze Test
National income, current affairs, Money market along with revision of previous topics.
Phase 4
Data interpretation, Bar Graph, Lines Chart, Pie Chart, Tabula and Revision
Blood Relations,

Data Sufficiency,

Verbal Reasoning,

Seating Arrangement and Revision

Para Jumbles, Spelling Correction, Reading Comprehension
Revision
See Also
Cracking Tips for NABARD Bank Exam
How to Crack IBPS PO in Fist Attempt 
Best Preparation Tips for SBI PO Exam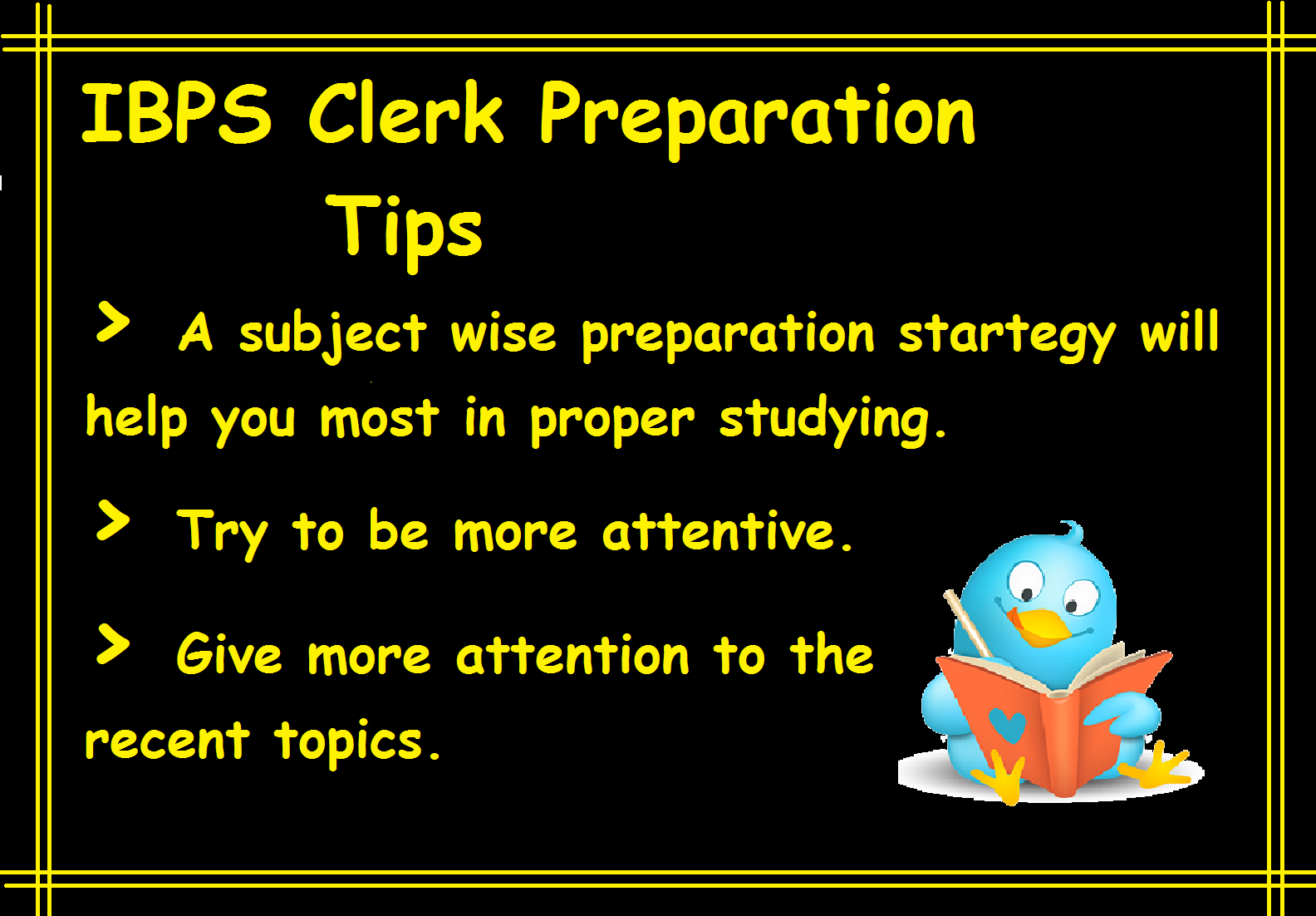 Follow some general IBPS Clerk Exam Tips too-
Try to avoid distraction while studying; this will help you in remembering things for long.
For the English subject just reading the good books won't serve all your needs. Try to implement what you learn in day to day speaking and writing.
The Preparation Strategy for IBPS Clerk GK is that you should be more focused on the current affairs related to the banking sector in terms of national and international level.
For your reasoning section, you can try the easy YouTube tutorial available on the internet. They are great Study Material for IBPS Clerk.
Lastly, the quantitative section which requires more calculations, uses a Study Plan for the IBPS Clerk Exam which also includes revision of its vast syllabus.