CDS Exam Preparation Tips (सीडीएस परीक्षा के लिए तैयारी कैसे करें तैयारी युक्तियाँ): The CDS Exam, Combined Defence Services, is among those prestigious exams which are preferred by most of the candidates. The recruitment of CDS is rather a willing service than any vacancy of doing the job. It has the glory and courage that most of the aspirants seek in a Government Job. It is an opportunity for the self-driven young blood to join the force and serve their motherland. This is what brings thousands of candidates to appear in the exam.
Well due to this tough competition, it is not easy to crack the exam without right Tips for CDS Preparation. For all the candidates who will be given this prestigious exam this year, we are contributing CDS Exam Tips and Tricks.
See Also
UPSC IAS Exam Preparation Plan
Expert Tips for UPSC Examination
CDS Exam Preparation Tips
The aspirants of the exam are provided a direction by the experts to make sure their preparation is well organized and lead to qualify the exam. Below mentioned are some key points on How to Prepare for CDS Exam which is usually neglected while the preparation.
1. CDS Exam Strategy: Set Application of Strategy and Skills
To begin with, all the candidates are advised to refer the syllabus. Incoherence to it, we suggest all aspirant that they should make a format for determining how they shall study. Making a Combined Defence Service Exam Study Plan is the right option for all who deal with the problem of concentration. The candidates can try to divide their time accordingly to all subjects and cover small portions every day.
Following this step will help the candidates complete their syllabus on time. For those who want to know How to Crack CDS Written Exam is that try to finish your syllabus a few weeks prior.

See Also
How to Crack SBI Clerk Exam in 10 Days
2. CDS Preparation Tips: Build Grip On Difficult Subject
Mathematics is one of the subjects which are usually difficult to attempt in less time. Similarly, for some, it can be same for the GK as well. Hence, the candidates are advised to indulge in more practice for easing the difficulty of the main exam paper. The best preparation for this begins with daily practice and alternate day tests. This one of the easy strategy for all those candidates who want to know How to Qualify CDS Exam.
3. CDS Online Preparation: Consider Reliable Sources
Those who want to know best CDS Exam Tips, the only advice is that they should rely on the reliable sources. The books are the best sources for the candidates to ensure a good preparation. However, if you don't rely on the books from good authors or reliable publications, all your efforts will go in vain.
Candidates who are preparing at home are instructed that the best CDS Exam Study Material is newspapers for English and GK and school level books for Math, while.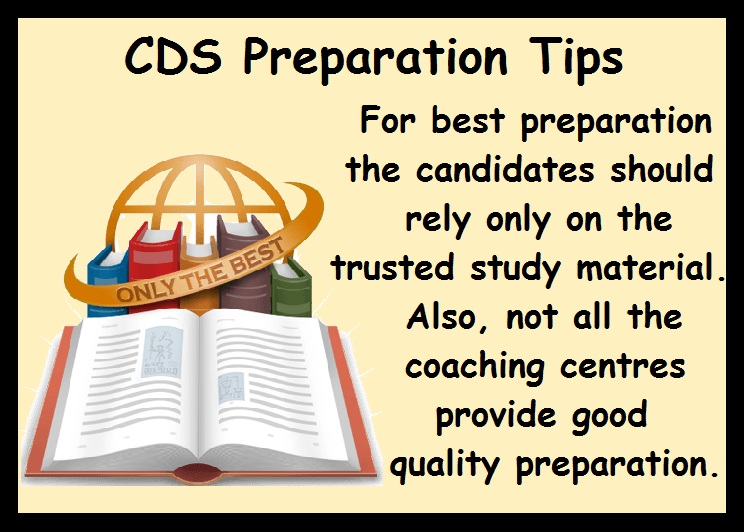 See Also
Preparation Plans for IBPS PO Exam 
How to Crack IES Exam in First Attempt 
4. CDS Expert Tips: Be Ahead of Time
Before starting a preparation every candidate looks for tips on How to Crack CDS Exam. The answer to all is that they skip the easy-going schedule for some days. Being determined plays a vital role in this. Unless the candidates will complete and chase the deadlines success in this exam won't be easy.
Those candidates who are seeking information on How to Prepare for CDS in 3 Months, the expert advice to them is that be strict for that time period, keep an eye on the syllabus and exam pattern.
5. CDS Written Exam Preparation Plan: Sustain Positive Attitude
The last but most important CDS Exam Cracking Tips is to maintain the confidence level. Until and unless the candidates will have a positive outlook towards self-sufficiency it won't be easy for them even after a lot of hard work to pass the exam.