How To Crack IAS 2024 (आईएएस को कैसे क्रैक करने के लिए – टॉपर्स द्वारा प्रारंभिक और मुख्य परीक्षा तैयारी टिप्स): A lot of young people aspire to join a prestigious dream job like IAS (Indian Administrative Services). But all of them might don't know how difficult it is to qualify in the exams. The only thing that all and everyone requires is the massive preparation. There are thousands and thousands of students every year who hit coaching institutes for this purpose. While there are some who wish to continue with self-studies.
However, for them, there are many questions such as How to Prepare for IAS Exam? How to get started? Can we prepare along with working? How to start preparation while studying? What is the Best Study Plan for IAS?
The list may go on. To ease all your worries, here we are mentioning the Best Strategy for IAS Preparation.
How is the exam conducted?
The exam is conducted in 3 stages-
Prelims
Mains
Interview
If you are one of the candidates who want to know How to Crack IAS in First Attempt, preparation for a long run should be your vision.
See Also
UPSC Main Examination Preparation Tips
How to Crack IES Exam in First Attempt 
What subjects you have to prepare for the exams?
The applicants of this exam need to do make a Study Plan for IAS Exam to master in all subjects for qualifying for the exams. It includes all the core subjects up to class 10th. However, the questions can be asked for any region. There is optional Strategy as well which individual can choose according to his proficiency.
Know the competition
See Also: How To Crack UPSC Prelims Exams
Preparation Tips for IAS
1. IAS Preparation Guide: Be Selective But Thorough 
It is very hard to cover the whole syllabus, every day new history is created and each day there is something new added in general awareness. As one of the Preparation Tips for IAS by Toppers, be selective in what you read and learn but be thorough in it.

2. IAS Exam Preparation Plan: Stick To Study Plan
 Whether you are making a plan of 6hours of study or 4hours, sticking to it will help you get most out of it. Investing this precious time in studying good books and Study Material for IAS will save your efforts from going in vain.
See Also
3. IAS Preparation Strategy: Take Mock Tests
 IQ tests and logical reasoning can only be developed by more and more practice. Still searching for a question How to Crack IAS in 3 Months? Buy the practice series or you can take the optimum use of the internet by enrolling for online mock tests. Hindi students can get their tests along with IAS Preparation tips in Hindi as well.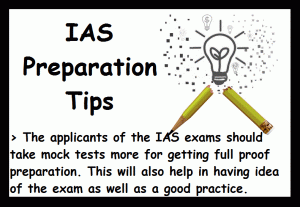 4. IAS Study Plan: Take Follow Ups
All the candidates can improve their general knowledge through following news and read newspapers. If you want to know How to Prepare for IAS Exam at Home well, remember that not all of the information is necessary. Hence listen to the short news or news summaries.
5. IAS Preparation Tips: Negative Marking
There are many questions for which candidates get confused. You should remember that the exam has negative marking. If you find any question doubtful or don't know the answer; better leave it.

6. IAS Exam Material: Belief In Yourself
Those who study at home, they should remember that it is the hard work that pays off. Be confident that you can do it without coaching as well; from the best Toppers Tips for IAS Preparation. The students who are preparing it coaching as well, they should not get nervous. Don't let yourself hit the pressure of not knowing all.
See Also
CBSE UGC NET Exam Preparation Plans