How To Prepare for SSC CPO 2023 (एसएससी सीपीओ परीक्षा की तैयारी कैसे करे – एसई टिप्स क्रैक परीक्षा रणनीति ): The national level exam of the Central Police Organization is conducted by the Staff Selection Commission Sub Inspector exam. Prominently the exam is given by the majority of the candidates for the SI post i.e. the Sub Inspector. The candidates who qualify this exam get selected in central Government Jobs like CRPF, ITBP, BSF, SSB and even Delhi Police. As it has the high level of competition in the exam, it requires the knowledge of Cracking Tips for SSC CPO exam by the applicants.
Latest Update: SSC is going to conduct the CPO Sub Inspector 2023 exam in the upcoming months. Aspirants can check the SSC CPO SI Preparation Tips, Sub Inspector exam preparation strategy from here.
For all the candidates who are interested to give this exam must be dwindling with the question How to Prepare for SSC CPO Exam. Well for all those candidates we have prepared SSC CPO Preparation Strategy.
See Also
Preparation Tips for SSC Stenographer
How to Score 100% Marks in SSC MTS Exam
SSC CPO SI Preparation Tips
If you wish to qualify the exam to follow the below-mentioned tips-
1. Prepare According To Exam
The readiness for the exam is very important for all of the candidates to give a good performance. For this, the understanding of the exam pattern is most important, which is as follows-
Paper I
Section
Subject
Marks & Questions
Time
A
General Intelligence and Reasoning
50/50
02 Hours
B
GK and Awareness
50/50
C
Quantitative Aptitude
50/50
D
English Comprehension
50/50
See Also: How to Crack SSC CGL in First Attempts
Paper II
Subject
Marks and Questions
Time
English Language and Comprehension
200/200
02 Hours
2. SSC CPO Preparation Online: Evaluate Previous Cut Off 
Before starting the studies the foremost important topic is to make sure that you first understand the previous benchmarks that have been set to qualify the exam. This step gives you an idea on how you can make SSC CPO SI Study Plan according to your abilities.

See Also
How To Crack RRB  JE & SSE Exam
UPSC Main Examination Preparation Tips
3. SSC CPO Preparation Strategy: Do Section Wise Preparation
The candidates who are looking for Preparation Tips for SSC CPO SI, the advice to all of them is that they shall maintain their study plan for the sectional study. Each and every section is of equal importance and scoring individually enough marks in them is essential. Therefore the candidates shall make sure they master in all of the subjects equally.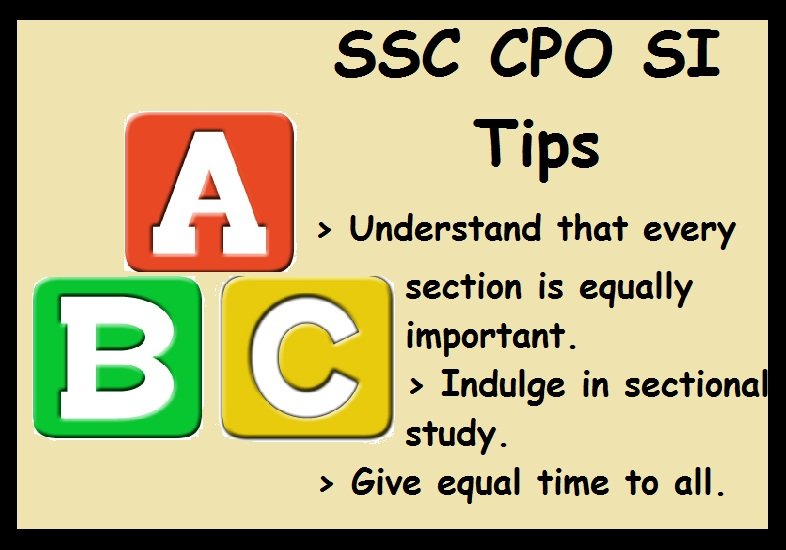 Some General Tips for SSC CPO Exam
Tips for General Intelligence and Reasoning-
Practice as much as possible with allotting a proper time limit.
Solve quizzes, puzzles and all other games that will sharpen your mind processing.
Lay emphasis on the topics such as classification, analogy, data sufficiency, vein diagrams, coding-decoding, puzzles, order and ranks, direction and distance, missing numbers and series.
Tips for English-
Improve the speed for reading and interpreting its meaning is the ultimate SSC CPO SI Exam Tips.
Improve your vocabulary by learning new words on daily basis.
Learn their synonyms and antonyms.
Tips for Quantitative Aptitude-
Boost your speed of calculations.
Develop or search for the short tricks of formulas and solutions.
For those looking on How to Crack SSC CPO SI Exam focus on the topics such as ratio and proportion, geometry, algebra, data interpretation, simplification, mensuration, speed, time and distance calculations, mixture problems, number system, and interest.
See Also
How To Crack UPSC Prelims Exams
SSC CPO Tips for General Awareness
Prepare thoroughly for the static GK such as Culture, history, geography, environment, economy, and polity of India, science, and technology.
Learn the current affairs daily by reading newspapers and watching the short news is the ultimate SSC CPO SI Preparation Tips.
Also, take note of the topics such as awards and honors, newsworthy prominent personalities, books and authors, new researchers and technology.